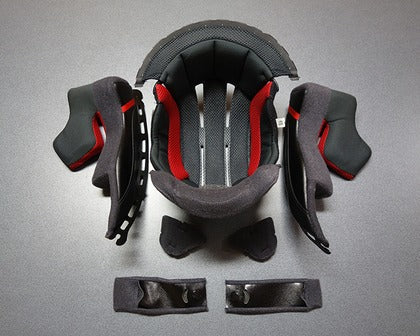 SHOEI HELMET SPARE PART X-14 INTERIORS
Add to wishlist
Product information
Head pads in different sizes can be used to replace the original padding or to individually adjust the helmet in the upper head area.
The padding of a particular helmet model can be replaced within the scope of its size allocation, e.g. "XL5" - "XL9" - "XL13". "XL5" stands for a thinner, "XL13" for a thicker padding, as shown in the following chart.
You will find the size of the original padding on its back.
With a tight but comfortable helmet, you will have fun, comfort and safety in every riding situation. The X-SPIRIT III's head padding ensures a stable fit of the helmet, while the three-dimensional rib structure of the padding provides optimum ventilation and effective moisture management. In narrow urban canyons as on open country roads.
If the inner padding of your helmet is worn out after years of use and many kilometers or if it cannot be cleaned anymore, a replacement ensures a fit like on the first day and a fresh, hygienic helmet interior.
Fastening by means of press buttons and fastening bar.
Visit
HERE
for step by step online shopping guide